Hi my names Adam and a few months ago i bought my first Swift GTI. Always wanted one since i learnt to drive and my first car was a Swift GC 1.0. Then when i was 18 i bought a classic mini and i restored that and its now had two different turbocharged a series engines which have both gone kaput. Thought about putting a gti engine in the mini but i am now fitting it with a 4efte lump from a toyota starlet.
The plan with the swift is to just keep it up together, its my daily car at the moment so i cant do much to it. Its currently on 80,000 miles, its got a group A rally chipped ecu, induction kit, lowered and on 15s. Next year i want to take it off the road and tidy the bodywork a bit and re-spray it.
Heres a couple of pictures (since these were taken i have removed the front splitter)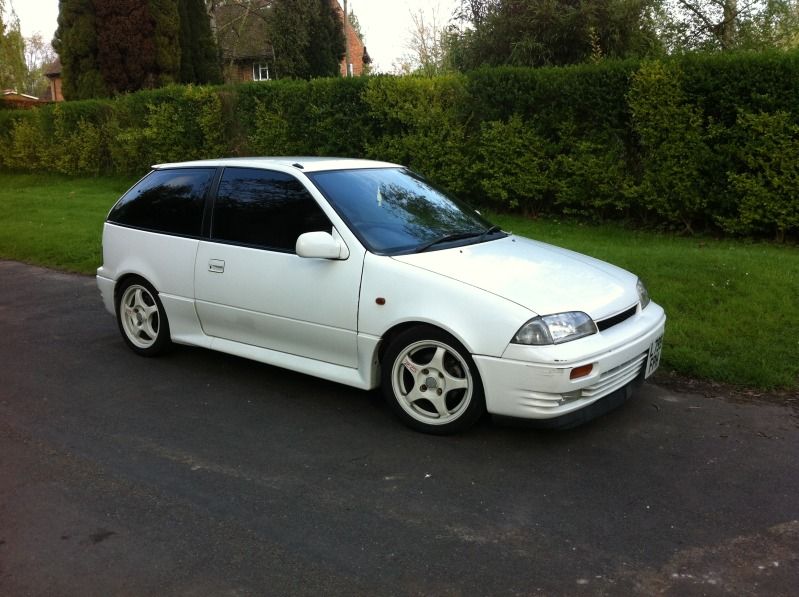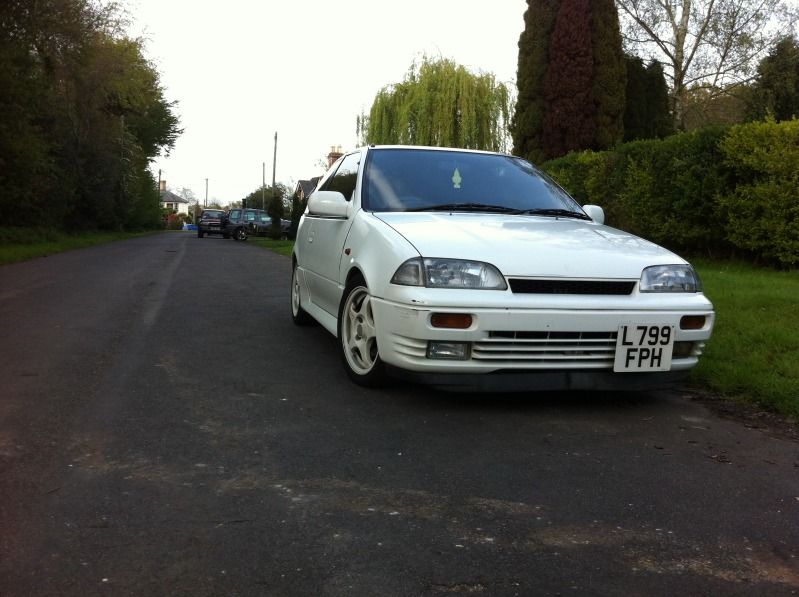 If anyone knows of any good performance mods that can be done, let me know. Wondering whether a different exhaust will make a bit of a differance or any other little things that can be done.
Last edited by Adam.T on 29/07/12, 01:00 pm; edited 2 times in total

Adam.T




Posts

: 28


Join date

: 2012-07-17


Age

: 29


Location

: Barry, South Wales

Character sheet
first car: Suzuki Swift GC


Isnt the 4b iron block?
Why didnt you use the g13b? ali block, forged crank or did you just want keep gti running?

dominator




Posts

: 1298


Join date

: 2008-03-16


Age

: 41


Location

: bournemouth

Character sheet
first car: renult 5 ts (1.7!)


It was never the intention of taking the engine out of the my gti for the mini. I know the 4efte has an iron block but with the turbo they produce more power than the g13b and it is easier to increase power with minimal changes.

Adam.T




Posts

: 28


Join date

: 2012-07-17


Age

: 29


Location

: Barry, South Wales

Character sheet
first car: Suzuki Swift GC


th 4fte head flows less than a gti head there tinny the swift will do 200bhp stock internals on a small cheap turbo like td04 with a stock ecu turbo chip and a piggy back rebuild it with forged stuff and 300whp is the limit for the block really even on waste of time changing the motor tbh mate better off with a starlet even then id throw the 4fte away my friend has a starlet with a 3sgte thats a nice conversion. theres a swift with a b16 in thats a nippy lil thing

_________________
Bringing back the old school

STEVEGTI

Admin




Posts

: 1835


Join date

: 2008-03-02


Age

: 32


Location

: london

Character sheet
first car: suzuki swift gti


---
Permissions in this forum:
You
cannot
reply to topics in this forum